Cards Purchase Online
Items packaging at 10 pieces per pack. Prices shown are GST included.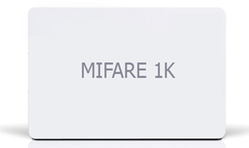 Mifare Classic - 10 pieces
SKU 00002
Product Details
ISO CR80 (credit card size)
Dimension 54W x 86L x 0.76H (mm)
Mifare is a contactless technology based on the frequency 13,56 MHz. The technique is read/write, which means that you can both read and write data on the card. Different amount of data can be stored depending on the chip's memory capacity. The information is protected with two types of encryption. The Mifare technology is currently supported by most access control systems and is also used in some payment applications.
Seling at 10 pieces per pack.

Save this product for later